Introducing TuneAero
Sat, Jan 9, 2016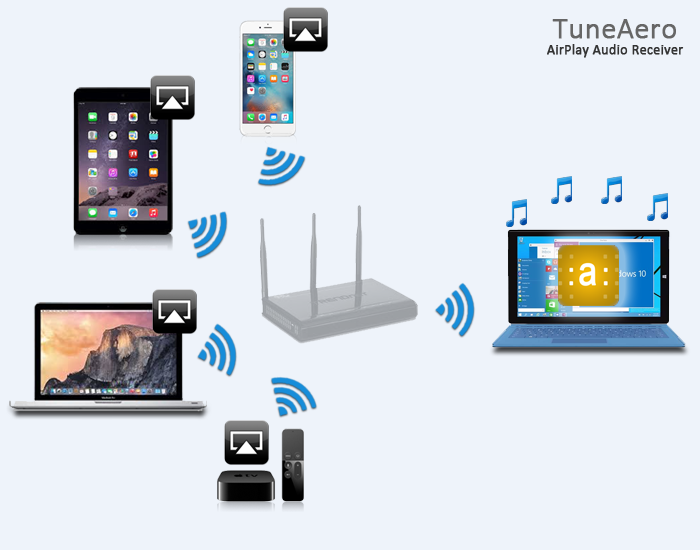 Overview
TuneAero is a software for Windows PC that can receive and play audio on any local wired/wireless network using the AirPlay protocol from several sources including iPhone, iPad, Mac, Apple TV, Windows and Android.

TuneAero is a simple tray utility, but it can be configured and transformed into an advanced Multi-Zone hub of music distribution.
Simply run TuneAero, and instantly it will be discovered by any AirPlay sender on the same local network. (By default, the AirPlay name of TuneAero is the PC name on which it is running. This can be modified from TuneAero's settings.)
Stream audio to TuneAero from any AirPlay sending device or software
AirPlay is Apple's protocol for media streaming on any local network. Apple devices such as iPhone, iPad, iPod Touch, Mac and Apple TV have built-in support for streaming audio from any application to TuneAero. Apple's iTunes software for Windows supports streaming audio to AirPlay receivers.
Not only Apple devices and software can send audio to TuneAero, but few applications on Windows PC and mobile, Android, enable sending audio to AirPlay receivers. TuneBlade for Windows PC is one such application for streaming system-wide audio to AirPlay receivers. TuneBlade is a product of Breakfree Audio (TuneAero's developer)
Synchronization Support
AirPort Express, Apple TV and other Apple approved hardware from Pioneer, Sony, Bose, Denon, JBL, B&W etc. support timing and synchronization. TuneAero, unlike most other AirPlay software solutions, supports timing and synchronization features of the AirPlay protocol. This enables TuneAero to play each audio sample precisely at the time the sender wants it to play. This is especially useful while watching a video on an iPhone, iPad, Mac or Apple TV and listening the audio on TuneAero.
Synchronization among audio receivers is vital for any multi-room audio setup, else there is undesirable echo effects. Senders such as iTunes and TuneBlade can stream to multiple AirPlay receivers simultaneously. Since TuneAero plays audio in sync with other Apple and Apple approved receivers, it's perfect for multi-room audio.
Multi-Zone: Receive and Play multiple AirPlay audio streams
TuneAero can be configured to receive any number of AirPlay streams. This is useful if there are multiple speakers connected to the PC, and each speaker can be exposed as a separate AirPlay receiver.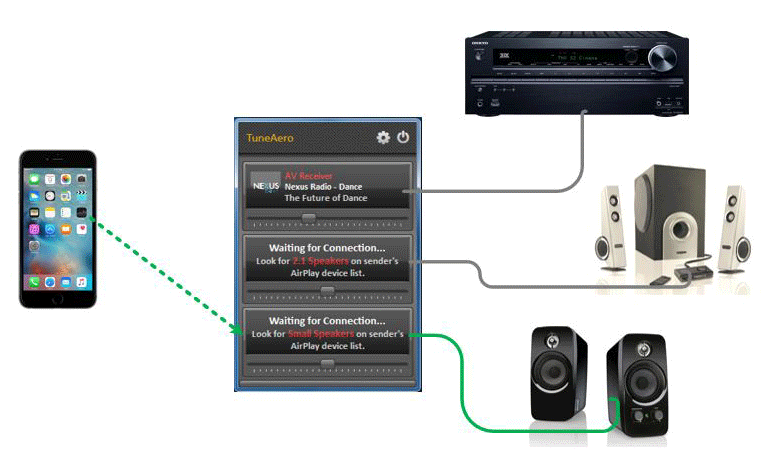 Fig: Multi-Zone Example: TuneAero is exposing 3 different AirPlay receivers (Zones). Zone 1 is configured to play audio to an HiFi receiver connected to the PC via USB DAC. Zone 2 is configured to play audio to a 2.1 speaker system connected to headphone jack of the PC. Zone 3 is configured to play on a speaker connected directly to the internal sound device via 3.5 mm jack. An iPhone user selects which speaker to play audio to by selecting the corresponding AirPlay Zone.
Zone Grouping: Play an AirPlay stream on more than one speaker
TuneAero can be configured to play audio from an AirPlay stream to multiple speakers connected to the PC simultaneously, enabling Zone-Grouping capability. Multi-Zone with Zone Grouping enables a complete Multi Zone solution directly from the iPhone for all Apps.
An example scenario is to configure individual incoming AirPlay streams (or Zones) to play audio to speakers (connected to the PC via inbuilt sound card/ USB sound card) in each room , and configure another AirPlay receiver zone on TuneAero to render on all speakers simultaneously for a full house party, or a subset of the speakers for a part of the house.
Trial version and license
TuneAero is free to try. In the trial version, TuneAero disconnects from sender every 15 minutes. There is no limit on number of reconnections. To remove this limitation, a license for TuneAero can be bought for only 14.99 USD.
Feedback and Support
We're always looking forward to any feedback that you may have. Please do not hesitate to contact us at support@tuneaero.com .